Are you in need of a reliable agricultural spray foam insulation company? ALL-POLY proudly specializes in the installation, removal, and replacement of agricultural spray foam insulation. As a Veteran-owned and family-operated small business, we keep our services safe and affordable. We understand your unique agricultural needs and you can count on us to complete your job on time and on budget.
Cut Utility Cost Nearly in Half at your farm or agriculture facility.
Replace your barn insulation with spray foam!
Call: (334) 245-4955 Today!
Agricultural Insulation Contractor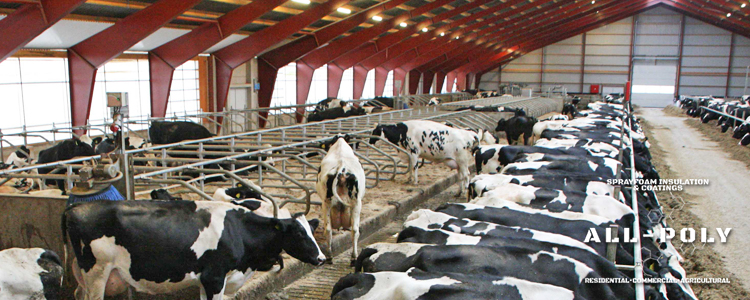 We're licensed, insured, and trusted by hundreds of satisfied clients over the last decade. When choosing an agricultural insulation contractor, quality, and experience matter. Your business operations are just too important to take a chance on anything less than the best professional installers.
At ALL-POLY, our installers have the expertise needed to properly install, remove or replace your agricultural insulation. Many farms struggle with heating and cooling bills. Especially in outbuildings such as barns, sheds, and livestock enclosures.
Spray foam insulation is easily installed just about anywhere, without any need for changing your existing structures.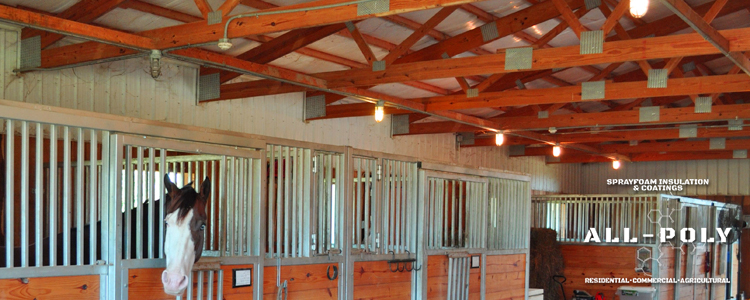 Whether you are looking to insulate a metal building or high-roofed pole barn, spray foam insulation gets the job done. Agricultural spray foam insulation is perfect for:
Crawl Spaces
Rafters
Ceilings & Roofs
Interior Walls
Exterior Walls
Agricultural Insulation Benefits
There are many agricultural insulation benefits including high energy savings and moisture control. In addition, spray foam insulation is an effective pest and rodent deterrent. Spray polyurethane foam, or SPF, is a great choice for any agricultural application.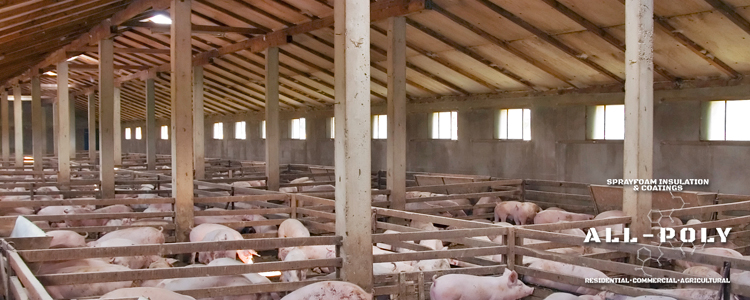 SPF products like AgriThane, expand to fill even the smallest gaps. It doesn't need refilling or replacement as often as other insulation types like fiberglass or loose fill. This makes spray foam insulation a better option than other materials. This is especially true for poultry houses.
Although SPF costs a little more upfront, the savings on utility bills are huge. Additionally, helping your livestock keep proper temperature makes spray foam the best choice. Our agricultural spray foam insulation installers will bring your facility long-lasting savings and a great return on investment. Give us a call today to discuss your exact needs!
We provide agricultural spray foam insulation in Alabama, including Prattville, Montgomery, Auburn, Dothan, Enterprise, Mobile, Gulf Shores, Birmingham, Gadsden, Huntsville, and the surrounding areas.