Wondering about the hype surrounding spray polyurethane foam (SPF)? This open-cell and closed-cell foam is a high-performance insulator commonly used to insulate homes and buildings. It's known to improve the comfort, sound, and energy efficiency of homes and businesses. We specialize in spray foam installation and are happy to answer your questions.
Did you know that spray foam insulation seals out the elements from your home
or business? It's True! This cuts utility bills significantly.
Call: (334) 245-4955 Today!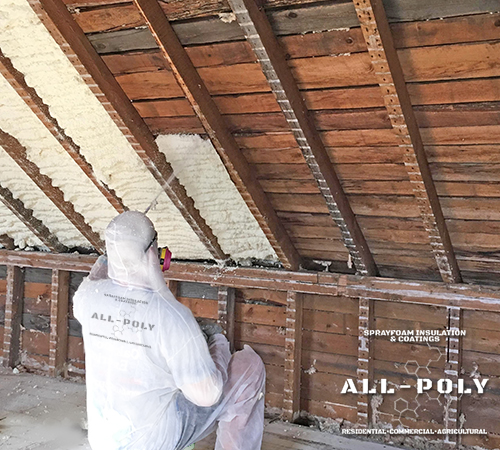 SPF Insulation Installation
Ideally, the best time to consider having spray foam installed is during new construction or renovation. This isn't mandatory by any means, but it makes the installation process much easier. Even so, adding spray polyurethane foam (SPF) insulation to attics, basements, crawl spaces, walls, and subfloors is pretty easy. Everything starts with the preparation of the areas getting sprayed.
Don't worry, you'll be away for a short time while we're busy installing it. No surprises around here, we'll go over the installation process in detail with you beforehand. The informative instructions we provide keeps you safe. Additionally, this ensures a smooth and efficient process for us to get the job done on time. Did you know that we also insulate metal buildings and barns? We do!
Benefits of Spray Polyurethane Foam (SPF)
There are many benefits of installing spray polyurethane foam (SPF) in your home or business. First, SPF provides the best protection against air and moisture. It's really the perfect radiant barrier. Furthermore, it's the most durable insulation option for your property. No matter where we install it, polyurethane foam delivers a seamless surface. When the liquid lands on a surface, it expands to fill every nook and crevice. The result is a surface with no seams.
This means there's less chance for water or air to leak through. SPF is also an environmentally friendly insulation option. There isn't waste when a professional company installs this product. The installer will only use the necessary amount with no leftovers or wasted foam product.
We provide the best Spray Polyurethane Foam (SPF) insulation for homes and businesses in Alabama, including Prattville, Montgomery, Auburn, Dothan, Enterprise, Mobile, Gulf Shores, Birmingham, Gadsden, Huntsville, and the surrounding areas.