Curious about the benefits of spray foam roofing insulation? Let us show you why spray polyurethane foam (SPF) can be the perfect solution for your roofing needs. Whether you're looking for energy efficiency or ease of maintenance, chances are that spray foam is perfect for you. We specialize in spray foam roofing installation.
Do you have a flat or low-sloped metal roof that needs replacing or is constantly leaking?
A coated foam roof is watertight and cuts utility bills drastically!
Call: (334) 245-4955 Today!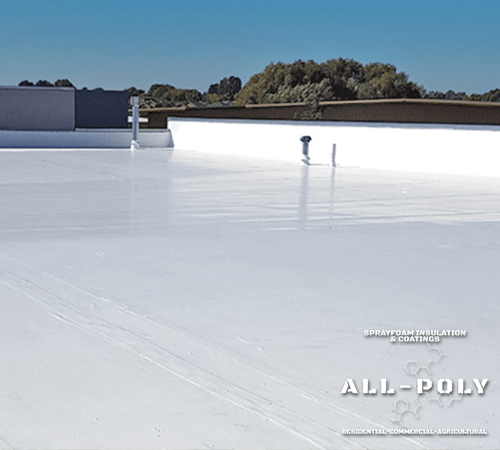 Spray Foam Roofing Contractors
In Alabama, you have some options when it comes to foam roof companies. Obviously, you want to choose the most affordable option, but you also want the best, most dependable installers you can find. We know you don't want to waste the money you're investing in your new roof! There are certain things that set some contractors apart from others. When you're choosing a spray foam company, look first to see how long they've been in business. Determine whether they seem to have good knowledge about spray foam and its various applications. Ask them about common mistakes made when applying spray foam for roofing.
You are the one paying your hard-earned money for this insulation upgrade. Do not be fooled by spray foam companies that offer a product that is exceptionally cheaper than others. You will likely get what you pay for! We are a licensed, bonded, and insured spray foam installer in Alabama. We are known for high-quality products at affordable prices. Our expertise in SPF installation will allow us to answer any question or address any issue you might have. Did you know that these roofs install amazingly well over flat or even metal roofs?
Foam Roof Cost
As of February 2022, the cost of SPF installation is around $7500 for small roofs and above $14,000 for the much larger ones. Relevant factors that determine price are the size of the roof, underlayment materials, the thickness of the foam, and the length of the warranty. Even so, the return on investment for energy efficiency can be realized over a few short years.
We provide affordable spray foam roofing installation in Alabama, serving Prattville, Montgomery, Auburn, Dothan, Enterprise, Mobile, Gulf Shores, Birmingham, Gadsden, Huntsville and all of the southeastern United States.