Are you a homeowner or business person looking for spray foam insulation services for your attic or walls? Spray polyurethane foam (SPF) insulation is an affordable air barrier option that adapts itself wherever it is sprayed.
Thought you couldn't afford to insulate your home with energy-efficient spray foam?
Let ALL-POLY show you the possibilities!
Call: (334) 245-4955 Today!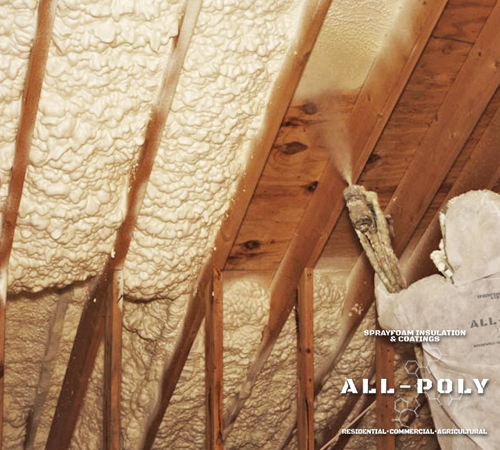 In this way, it seals every crack and crevice and provides remarkable airflow sealing. We install spray foam insulation for homes and businesses in Alabama.
Residential Spray Foam Installers
Spray polyurethane foam is a superior option to insulate your home. Unlike traditional fiberglass insulation, SPF conforms to any area where it is applied. In attics, walls, crawl spaces, and basements, it is a versatile and effective insulation solution.
According to the Department of Energy, air leakage in a home accounts for up to 40% of the energy cost. This loss is equivalent to leaving a window open all day every day for a year. Spray foam is effective because it blocks heat flow that is a result of air leakage.
Spray foam insulation services can have a significant impact on your energy bill. It is an affordable insulation choice that quickly pays for itself in utility savings. Low-VOC polyurethane foam insulation is a safe choice for residential insulation. During new construction is a great time for installing it.
Commercial Spray Foam Insulation Contractor
Commercial buildings, even metal ones, have unique needs that are different from residential structures. Heavy traffic and exorbitant energy costs can leave business owners looking for ways to curb costs. Using insulation to prevent heat loss is one great way to save on costs. Many builders, designers, and architects for all kinds of commercial structures are using spray foam insulation services. SPF increases building durability, structural strength, and moisture resistance when properly installed by a professional contractor.
Spray foam insulation can provide a complete airflow barrier in one coat. Generally, SPF can be applied by a small team in a short amount of time. This convenience translates into financial savings for most commercial construction projects.
We provide spray foam insulation services in Alabama, including Prattville, Montgomery, Auburn, Dothan, Enterprise, Mobile, Gulf Shores, Birmingham, Gadsden, Huntsville, and the surrounding areas.