Metal building spray foam insulation is more affordable than ever right now. Additionally, Spray Polyurethane Foam (SPF) reduces heating and cooling costs, adds structural rigidity, and sound deadens.
If your steel building is an igloo in the winter and an oven in the summer, spray foam is the answer!
Let ALL-POLY show you just how affordable it can be!
Call: (334) 245-4955 Today!
Metal Building Spray Foam Insulation Cost 2022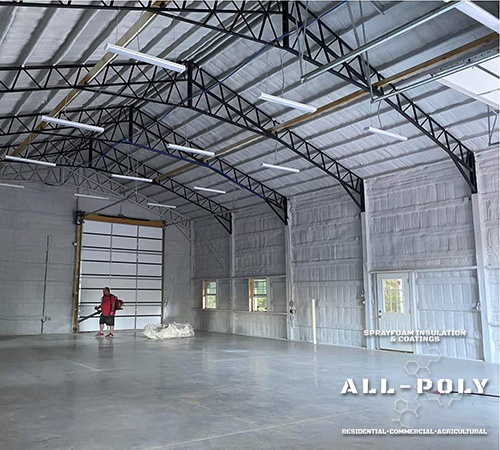 In 2022, the average cost for steel building spray foam insulation ranged between $3500 to $5400 for smaller buildings and $7500 to $10,700 for larger ones. Of course, prices are lower or higher depending on the square footage, the amount of materials used, and other necessary items.
We provide written price quotes for all types of metal buildings, such as pole barns, warehouses, workshops, tool sheds, garages, factories, poultry houses, and more. If your building has a flat or low-sloped metal roof on it, spraying it with foam and coating it with a waterproof sealant is an option. Applying our products to walls, ceilings, and roofs is safe, fast, and within most budgets.
Even so, almost every one of our customers tells us that our prices are fair and reasonable. The value we provide when insulating their metal buildings with spray foam is hard to beat. Even though our pricing for installation cost is low compared to others, we don't cut corners on preparation, installation, or clean-up afterward.
Spray Foam Insulation Near Me
Once you determine that you want spray foam insulation for your metal building, finding a local company to install it happens next. If you're doing a search for "spray foam insulation near me", you're most likely looking for someone that's local to you. Good news, we are and have nearly a decade of experience.
Factually speaking, our residential, agricultural, and commercial steel building spray foam insulation installers have installed SPF in nearly every major town in Alabama. Since we're local to you and not from out of state, our prices are lower. This is because fuel costs less over shorter distances.
When it comes to insulating your metal building with spray polyurethane foam, you won't find a more reputable, affordable, or professional insulation contractor. We're locally owned, licensed, and insured.
We Install Metal Building Spray Foam Insulation in Alabama, including
Prattville, Montgomery, Auburn, Dothan, Enterprise, Mobile, Gulf Shores, Birmingham, Gadsden, Huntsville, and the surrounding areas.