Thinking about getting insulation replacement? If your old fiberglass batten or blown-in insulation is no longer energy efficient, you should! Removing and replacing worn down or thinning insulation and installing spray polyurethane foam is your best option.
Need your old insulation removed? We can install the most energy-efficient insulation
and save you thousands on heating and cooling bills!
Call: (334) 245-4955 Today!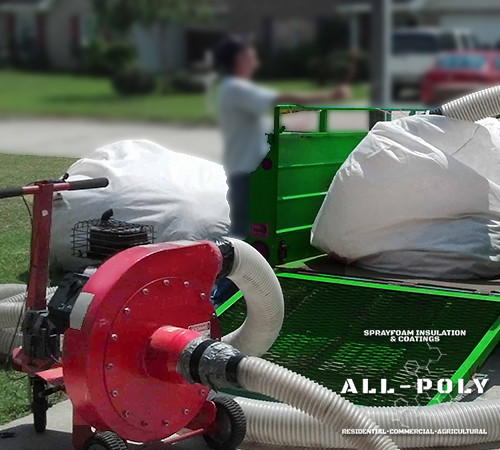 When the only thing insulating your attic, basement, walls or crawl space becomes ineffective, fix it. The amount of money you'll waste for climate control isn't small. The good news is that it doesn't have to be that way. You can do something about it and keep it in the budget. As a licensed and Veteran owned business, we have the experience and dedication you want. It takes specific equipment to completely remove and replace old blown-in or loose-fill insulation.
Fiberglass Insulation Replacement Company
The biggest problem with traditional insulation products is that they cannot seal out temperatures, wind, or water. Over time, fiberglass batts sag, and loose-fill settles. This can dramatically lower R-Values by 50% or more. Choose spray polyurethane foam (SPF) to insulate your home or building. Do this because there won't be any cracks or gaps to let the outside elements in. It forms an airtight bond to keep HVAC costs down to a minimum. This is especially true with metal buildings.
For areas such as roofing or flooring that need to be waterproof and strengthened, closed-cell foam insulation is the right choice. Furthermore, it cannot absorb moisture which makes it perfect for these areas. We are the local insulation replacement company. We're known for being very affordable and efficient. Finally, our technicians show up on time, get all of the work done and then thoroughly clean up afterward.
Insulation Replacement Cost
Now that you know that it's time for new insulation, price is a consideration. Next, we'll talk about how much money it will be in order to replace the old stuff. The average cost for insulation replacement in 2020 ranges between $5500 for small buildings and $13500 for larger ones. Factors that will determine the price you pay include the amount of material removed. Lastly, we compute the square footage of the area to have the new insulation installed.
Whether you have a small restaurant or a massive production facility, you can count on us. ALL-POLY delivers on quality, price, and professionalism. We provide fiberglass insulation replacement in Alabama, including Prattville, Montgomery, Auburn, Dothan, Enterprise, Mobile, Gulf Shores, Birmingham, Gadsden, Huntsville, and the surrounding areas.