Need a commercial spray foam insulation vendor you can trust? We have been delivering high-quality commercial installation in the Alabama area for more than a decade. As a Veteran-owned and family-operated business, you can depend on us to complete your project to your complete satisfaction – both on time and within budget. We specialize in providing the best quality spray foam insulation to meet your unique business needs. ALL-POLY has been the installation company of choice for hundreds of happy clients over the last 10+ years.
Having your commercial building insulation with spray foam can save you thousands
on your utility bill! Let us provide you with a free quote.
Call: (334) 245-4955 today!
Commercial Insulation Contractor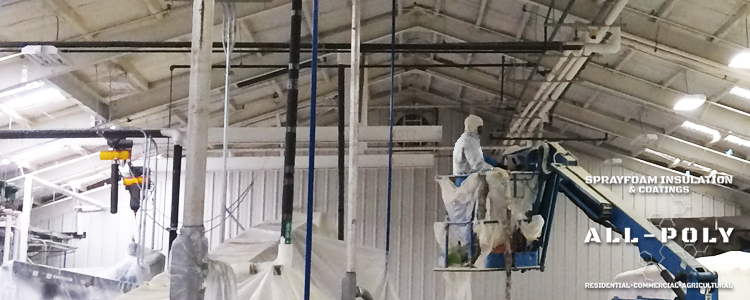 When you're looking for a commercial insulation contractor, quality product and installation is of the utmost importance. You need a contractor who understands your unique needs.
Whether you run a small office or a large warehouse, we understand how valuable your metal buildings and equipment are to your business. Proper insulation is essential to protect your property and efficiently operate your business.
Spray foam insulation is a great choice for any type of property due to its superior energy efficiency, longevity, and environmental friendliness. It does not need to be frequently refilled or replaced as many other insulation types do.
Our installers have the years of experience needed to expertly apply new commercial spray foam insulation. As a licensed and insured commercial insulation contractor, ALL-POLY is the best choice for your installation project.
Commercial spray foam insulation is perfect for:
Crawl Spaces
Rafters
Ceilings & Roofs
Interior Walls
Exterior Walls
Commercial Insulation Replacement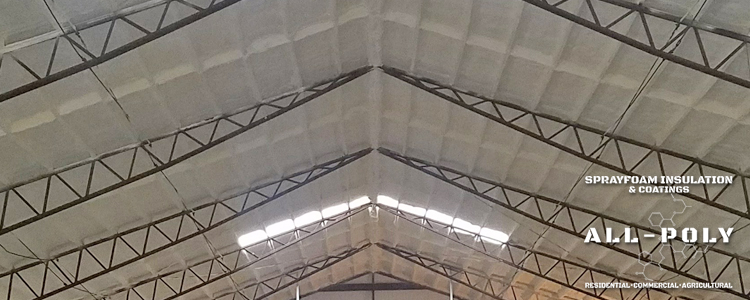 In addition to the installation of new spray foam insulation, we also specialize in the removal and replacement of your existing insulation. Commercial insulation replacement can seem like a big task to take on. However, investing in high-quality building insulation is a smart decision.
If you've been stuck with other traditional insulation methods in the past, such as fiberglass or loose-fill, you will be amazed at the difference that using SPF can make. You can expect to save as much as 40% on your energy costs when you insulate your building using our insulating services.
In addition, you will save money on refill costs and enjoy a far longer product longevity than other insulation methods. Give us a call today to learn how we can help you with your commercial insulation replacement project.
We provide commercial spray foam insulation in Alabama, including Prattville, Montgomery, Auburn, Dothan, Enterprise, Mobile, Gulf Shores, Birmingham, Gadsden, Huntsville, and the surrounding areas.