It's a fact that barn spray foam insulation is the best way to insulate, strengthen, and waterproof your building. On top of that, Spray Polyurethane Foam (SPF) is incredibly energy-efficient and very affordable.
If your traditional wood or metal pole barn needs insulating, we need to talk!
Let ALL-POLY show you the cost savings today!
Call: (334) 245-4955 Today!
Benefits of Spray Foam Barn Insulation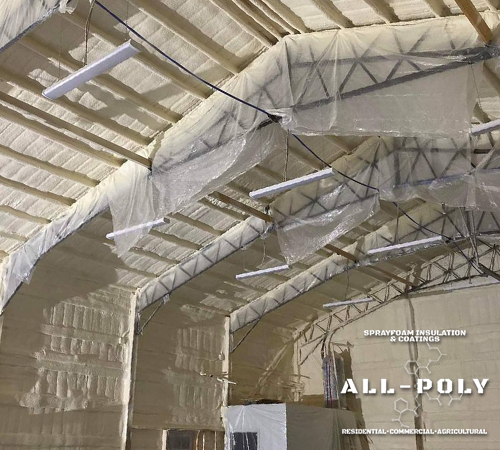 It goes without saying that insulating your barn with spray foam is a good idea. Going way beyond temperature and humidity control, spray polyurethane foam or, SPF for short, does so much more. For instance, did you know that closed-cell foam is waterproof? Here are the top 5 benefits of installing spray foam barn insulation:
Climate Control. Spray foam protects agricultural hay, equipment, and livestock from temperature and humidity extremes.
Moisture Control. Keeping Hay, feed, grain, and other consumables from excessive moisture prevents rot and spoilage.
Utility Costs. Insulating a pole barn with spray foam reduces heating and cooling costs by 40% or more.
Structural Rigidity. Closed-cell foam adheres to the walls of your barn and adds significant rigidness to thin metal siding.
Sound Reduction. Whether you're operating loud equipment or keeping startling sounds away from livestock, spray foam is the best sound deadener.
So, if you're insulating a poultry house, hay barn, pole barn, barndominium, workshop, garage, or any other type of barm, SPF is the best choice and value.
Spray Foam Barn Insulation Cost 2022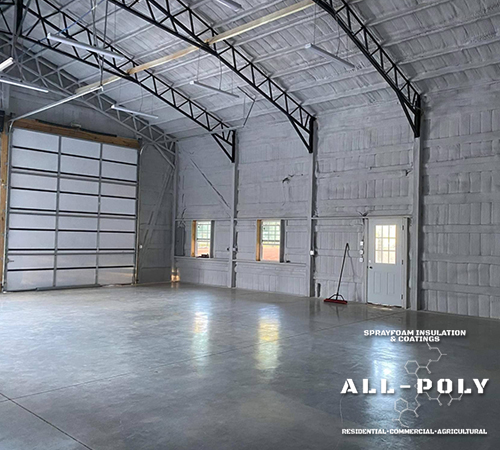 Now that you know it makes sense to insulate your barn with spray foam, how much will it cost? As of October 2022, the median cost for spray foam barn insulation is $4,500 for small pole barns and $8,800 for much bigger ones.
The actual price that you pay is determined by the type of SPF used (closed-cell or open-cell foam), the thickness of insulation installed, and the dimensions of the barn itself. Regardless of the height, length, width, or material of your barn, we always do our best to keep it affordable.
Since we're licensed, insured, and reputable, we're the perfect choice when selecting a spray foam insulation company located near you.
We install Barn Spray Foam Insulation in Alabama, including Prattville, Montgomery, Auburn, Dothan, Enterprise, Mobile, Gulf Shores, Birmingham, Gadsden, Huntsville, and the surrounding areas.