Are you looking for an experienced polyurea coatings contractor you can count on? We're known for providing the highest quality sprayed-on coatings in the industry. As a Veteran-owned and family-operated business, we understand your installation needs and you can depend on us to get it right. ALL-POLY has been trusted by hundreds of satisfied clients over the last 10+ years proving we have both the quality and experience you need for your next project.
Sprayed On Polyurea Coatings are the best way to protect against corrosion.
Let us provide a free quote today!
Call: (334) 245-4955 Today!
Polyurea Coating Contractor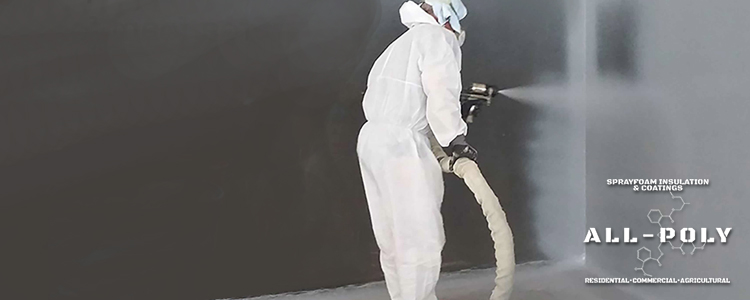 When choosing a polyurea coating contractor, it is very important to select someone who knows what they are doing. Protective coatings need to be applied properly in order to achieve the maximum benefit from the product. At ALL-POLY, we have the experience and knowledge required to expertly apply industrial coatings to your valuable equipment, storage tanks, and facility.
We specialize in the installation of insulation and polyurea coatings and we ensure a proper application of your protective coatings. These industrial coatings are extremely tough and durable elastomer material that can provide a reliable protective layer to many surfaces. As a licensed and insured polyurea coating contractor, we provide the application of protective coatings to:
Oil & Refinery Tanks
Pipelines
Storage & Water Tanks
Industrial Flooring
Factory Walls
Polyurea Coating Prices
While polyurea coating prices vary depending on project scope, you can count on us to deliver the best quality polyurea coatings at an affordable price. An investment in this commercial-grade substance is a great choice to protect your valuable equipment. These coatings can provide many benefits for your industrial or commercial operations. Polyurea coatings are highly protective against abrasion, impact, corrosive chemicals and even temperature fluctuations. Known as eco-friendly coatings, they cure rapidly with no VOCs, making installation on a variety of materials a breeze.
Industrial coatings can be applied to concrete, metal, wood, PVC, and fiberglass as well as glass. While we keep our prices conveniently low, we do not skimp on quality to bring you affordable polyurea coating prices. Our installation and quality control standards are very high, and our reliable service will ensure you see a great return on your investment. We specialize in the application of high-quality polyurea coatings in Alabama, serving Prattville, Montgomery, Auburn, Dothan, Enterprise, Mobile, Gulf Shores, Birmingham, Gadsden, Huntsville and all of the southeastern United States.