Are you searching for an affordable Alabama spray foam company to insulate your building? We deliver professional results in less time and always on budget. ALL-POLY has become Alabama's "go-to" foam insulation contractor because our installation and cleanup is outstanding. If you need to reduce the cost of heating and cooling your home, commercial building, or agricultural building, you should call us for a free estimate.
Got sticker shock from your spray foam insulation estimate? Don't overpay!
We can replace and install energy-efficient foam for less money.
Call: (334) 245-4955 Today!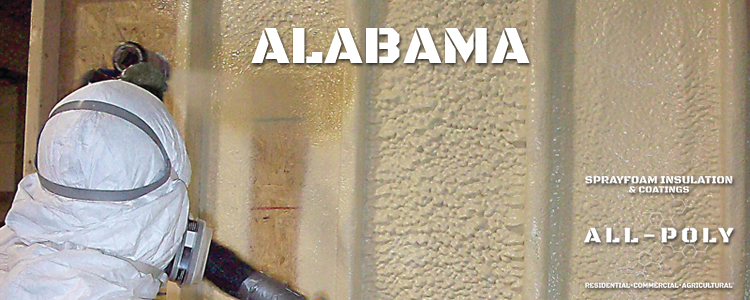 Spray Foam Insulation Cost
Like any homeowner or business owner, keeping expenses to a minimum is important. The good news is that the average cost for spray foam insulation in Alabama is $3500 for small homes and $14,000 for bigger ones. Naturally, the actual price you'll pay depends on several factors. First, the actual size or square footage of your house or building. Second, any or all specialized equipment required to apply the foam. Finally, the areas of the building that you want covered with insulation.
We're known for being one of the low-cost Alabama spray foam companies. Just don't let the affordable price fool you. Our workmanship is very professional and our materials are of the highest quality. Add to that our meticulous clean-up after we're through and hiring us just became a great choice.
Insulation Replacement
Is the fiberglass insulation worn out? Has the blown-in insulation in your attic become compressed and thin? Replace it with a permanent solution. For instance, it's dramatically more energy-efficient. Add to that, it insulates you from sound and the elements outside much better. We can remove your old fiberglass, blown-in, or other insulation with energy-efficient spray polyurethane foam (SPF). Finally, you can also have this open-cell or closed-cell spray foam in ceilings or under floors.
Our insulation replacement service is perfect for attics, basements, crawl spaces, and walls.
We are a local Alabama spray foam company serving Prattville, Montgomery, Auburn, Dothan, Enterprise, Mobile, Gulf Shores, Birmingham, Gadsden, Huntsville, and the surrounding areas.