Is your attic insulation costing you a small fortune in heating and cooling bills? It's amazing just how much spray polyurethane foam (SPF) reduces your utility charges. We install spray foam in attics for homes and businesses and we're known for producing high-quality results at an affordable price.
Is your electric bill going through the roof? It is if you're not insulating it from
the heat and cold outside! Let us show you the facts.
Call: (334) 245-4955 Today!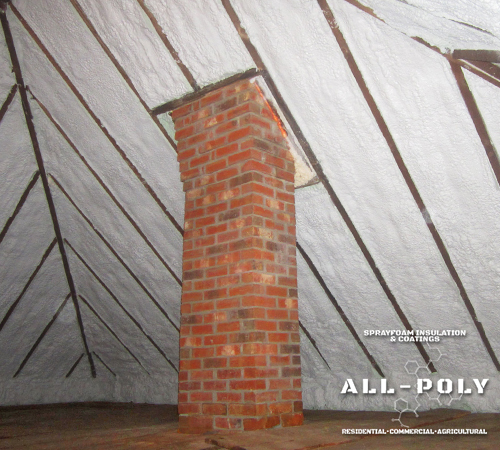 Attic Insulation Cost
The cost of spray foam attic insulation is slightly higher than for traditional forms of attic insulation. However, the return on investment is substantial considering how much it reduces your utility bills. Because of the slope of your roof, the roof deck, or rafters, cover a larger area than the floor. The accessibility of the area and the depth of foam required also impact the total dollar amount. Even so, it's almost always affordable. Another factor that determines the price of installation is the type of spray foam used. Generally, open-cell foam is used to insulate attics. If you decide to use closed cell spray foam, the reason is usually to form a vapor barrier. We are happy to answer questions about how these materials are different. We spray the whole area including, walls, ceiling, and flooring.
Attic Insulation Replacement
Replacing the attic insulation in an existing home is a bit more expensive than installing spray foam in new construction. This disparity exists because replacing the insulation in your existing home requires more work. Before a contractor installs polyurethane foam in your attic, the old insulation needs cleaning out. Once it's all gathered from your attic, the company disposes of the old material properly. Removing old insulation is important, even when spraying your new insulation on the rafters. This step helps create airflow between your home and the attic. Keeping your attic at a more steady temperature helps your HVAC system be more efficient. When cleaning out the old insulation, the spray foam installation happens next.
Our team installs replacement spray foam insulation in all manner of existing homes. We provide spray foam attic insulation in Alabama, serving Prattville, Montgomery, Auburn, Dothan, Enterprise, Mobile, Gulf Shores, Birmingham, Gadsden, Huntsville and all of the southeastern United States.