Have you been on the hunt for a reliable and affordable poultry house insulation company? ALL-POLY is proud to specialize in the quality installation, removal, and replacement of agricultural insulation. As a Veteran-owned and family-operated small business, we understand your unique needs. Our company maintains licensing, insurance, and affordable prices. All of this with tons of satisfied clients under our belts. You can count on us to complete your insulation job on time and within budget.
Considering spray foam insulation for your poultry farm? Don't act like a chicken!
Lowering your heating & cooling costs couldn't be more affordable!
Call: (334) 245-4955 Today!
Spray Foam Poultry House Insulation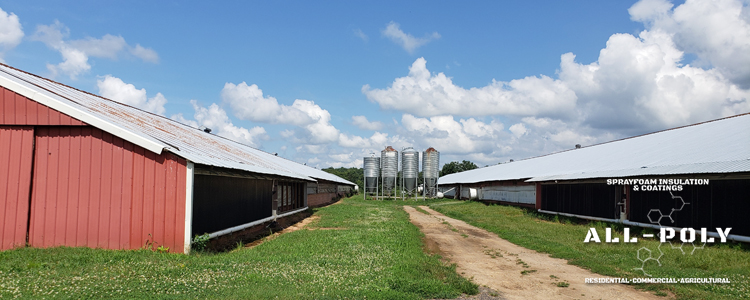 Proper poultry farm insulation is necessary to protect your metal building from the elements and preserve the lives of your chickens. If you are considering spray foam insulation for your farm, you are making a great choice.
Insulating your broiler house has many benefits. They include energy efficiency, high durability, and a long product lifespan. For instance, you will not need to replace or refill your insulation frequently like with other traditional methods.
In addition, spray foam insulation helps keep out moisture, bugs, rodents, and other pests away from barns. Spray foam insulation adheres to walls, ceilings, roofs, eaves, and other tight spaces. This is where a reduction in extreme heating or cooling benefits the most.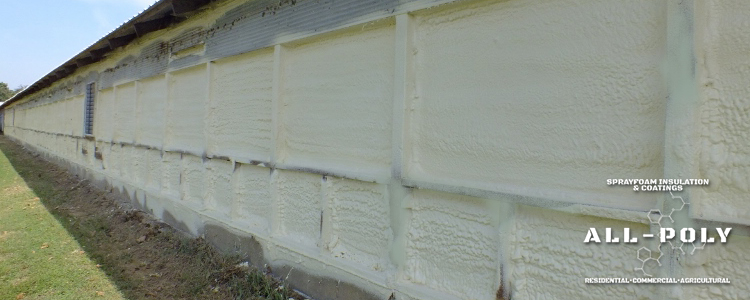 Our experienced installers can help you upgrade your previous poultry farm insulation. With more energy-efficient spray foam insulation, you spend less on heating and cooling costs.
Poultry House Insulation Cost
Exact poultry house insulation costs in Alabama vary. Factors include the size of the building and the amount of surface preparation needed. The best part is that the installation of spray foam insulation offers a fantastic return on investment. This is true for any size farm or broiler-house business. In properly insulated buildings with centralized cooling and heating, energy savings as high as 40% aren't uncommon on utility bills. Spray foam insulation lasts longer than fiberglass or loose-fill insulation. Because of this, you'll also save on insulation replacement costs over time.
Spray foam insulation does not settle as quickly as those methods which need to be frequently replaced or refilled. With spray foam insulation you can set it and forget it!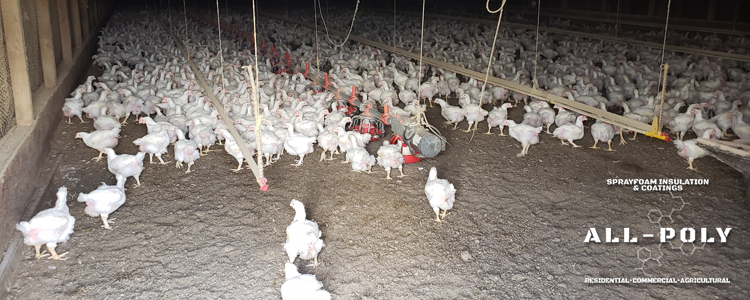 Although ALL-POLY can promise you an affordable installation price, your exact poultry house insulation cost will vary depending on the project scope. Give us a call today to discuss more about your unique needs and to get a free price quote.
We install spray foam poultry house insulation in Alabama, including Prattville, Montgomery, Auburn, Dothan, Enterprise, Mobile, Gulf Shores, Birmingham, Gadsden, Huntsville, and the surrounding areas.