Are you considering spray foam insulation for your home? Let us show you why this airtight insulation is the best option for making your house or business more energy-efficient.
Think you can't afford to insulate your house or building with spray foam? You can now!
We're professional spray foam contractors with the best prices.
Call: (334) 245-4955 Today!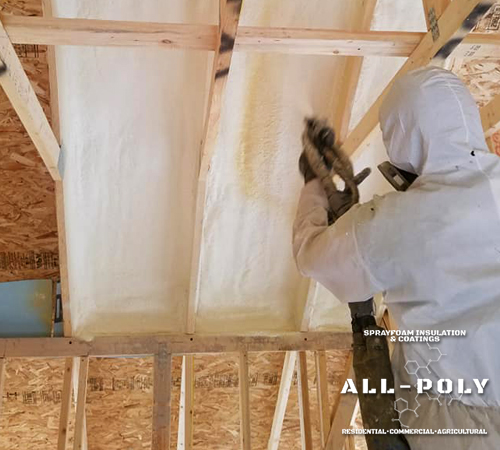 From stopping air loss to lowering your bills, SPF (spray polyurethane foam) is your answer. We specialize in spray foam applications for homes and commercial buildings.
Spray Foam Insulation Company in Alabama
The weather in Alabama can be extremely hot or cold. A well-insulated house keeps you comfortable but also protects you from high energy bills. Spray foam installation is unique. Unlike traditional insulation, spray foam conforms to every nook and corner. There are no gaps or areas where the air is allowed to enter or escape. We install spray foam in attics, basements, walls, crawlspace, ceilings, flooring, and roofs.
Traditional insulation can be thought of like a wool sweater. It keeps you warm in the cold weather unless there is wind. Spray foam is more like a windbreaker. It does keep you warm, but it also blocks the wind when it's blowing. The result for your house is ultimately greater efficiency and more comfort. Let us show you why our insulation services are the best in Alabama.
When there is a noticeable difference between the temperature of the outside air and the inside air, condensation can form on walls. This is especially true in Alabama during the humid summer season. Spray foam prevents the cold inside air from coming into contact with the hot outside air, so it protects against condensation forming on your walls.
We have the very best spray foam prices of any company in Alabama. Our SPF solutions can mean big savings for your wallet. Spray foam also means greater comfort for you in your house.
Spray Foam Instalation Cost
The price for spray foam insulation is probably more affordable than you think. Of course, there are several factors that affect the cost. The size of your home and the accessibility of the space you want to have insulated will both impact the price of installation.
We provide spray foam insulation in Alabama, including Prattville, Montgomery, Auburn, Dothan, Enterprise, Mobile, Gulf Shores, Birmingham, Gadsden, Huntsville, and the surrounding areas.