Need a high-quality industrial spray foam insulation company you can depend on? At ALL-POLY, we specialize in the installation, removal and replacement of spray foam insulation. As a Veteran and family-owned business, we care about the results we deliver. You can count on us to complete your job on time and within budget. We're licensed, insured, and have produced results for hundreds of satisfied clients over the last 10+ years.
Do you need to insulate your industrial tanks, pipes or equipment?
We're licensed, certified & Affordable!
Call: (334) 245-4955 Today!
Industrial Insulation Company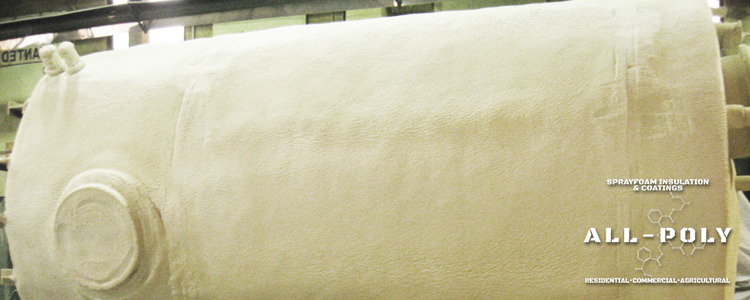 When selecting an industrial insulation company for your industrial spray foam insulation needs, quality and reliability are crucial. The proper insulation method and installation quality are critical. Its sole purpose is to protect your equipment and property while ensuring efficient operations.
ALL-POLY installers have the expertise needed to be your industrial insulation company of choice. This lightweight foam blanket is a great choice for those seeking a top-of-the-line insulation option.
There are many reasons to insulate. Spray polyurethane foam insulation (also known as SPF) is highly energy-efficient, environmentally friendly, and has a long lifespan.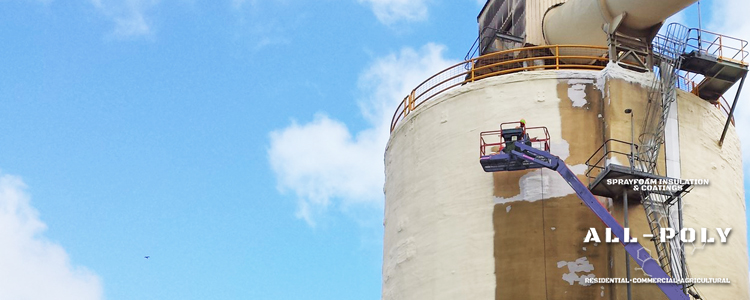 SPF lasts longer than other methods because it does not settle and need to be refilled every few years.
Spray foam insulation also helps with soundproofing, noise reduction, and temperature control. Because of this, it's a great option for industrial environments such as factories and warehouses.
Closed-cell SPF can also be used to protect and insulate valuable equipment. Pipelines and tanks are commonly coated due to its impressive temperature regulation and moisture resistance.
Industrial Insulation Replacement
In addition to the installation of new industrial spray foam insulation, we also specialize in the replacement of your old insulation. Industrial insulation replacement can seem a little expensive initially. However, deciding to invest in a high-quality industrial spray foam insulation is a smart choice. Even if you've tried other traditional insulation methods in the past, this is different. You will be amazed at the difference that replacing them with spray foam insulation can make. SPF does not require frequent refills or replacements. The opposite can be said for loose-fill or fiberglass insulation methods.
SPF is ideal for insulating large equipment and buildings. It will also help your company save big on heating and cooling costs. In fact, you can expect up to 40% lower utility bills. Give us a call today to learn how we can help you with your industrial insulation replacement project. We provide reliable installation of industrial spray foam insulation in Alabama, serving Prattville, Montgomery, Auburn, Dothan, Enterprise, Mobile, Gulf Shores, Birmingham, Gadsden, Huntsville and all of the southeastern United States.